Spark of Sanity, a rock band from Zaltbommel.
🇳🇱 Begonnen in een kleine studio in Aalst is Spark of Sanity aan de slag gegaan met het spelen van covers en eigen ideeën, bestaande uit een zang, keyboard, gitaar en basgitaar. Toen de toetsenist de band verliet, kort nadat er een drummer bij was gekomen, is de kern van de huidige band ontstaan. Dit trio zat op één lijn qua muzieksmaak en creatieve richting. Na het verslijten van een aantal extra gitaristen zijn we bij de huidige opstelling beland. Nick op drums, Bjorn op basgitaar, Robin op gitaar en Laurens op gitaar en zang. Door de tijd heen hebben we veel verschillende stijlen gespeeld. Door het spelen van muziek uiteenlopend van akoestische ballades tot stevige hardrock hebben we uiteindelijk ons eigen geluid gevonden. We hebben ons vooral laten inspireren door Britse pop-rock en het ruigere amerikaanse geluid. Ook laten we graag horen wat we spelen, van een akoestisch optreden op Ramblas tijdens de vierdaagse (Nijmegen) tot onze gebruikelijke stevige rock op een Harley Davidson meeting. Tenslotte kunnen we ons met veel trots de winnaar noemen van de 'Parel van de Betuwe 2018' waarin wij veel nieuw eigen werk hebben gemaakt en deze graag ook op andere evenementen presenteren!
🇬🇧 In a small studio in Aalst, Spark of Sanity started playing covers and own ideas, with a line-up of vocals, keyboard, guitar and bass guitar. This triplet was on the same page in terms of musical taste and creative direction. After wearing out a number of extra guitarists, we ended up with the current setup. Nick on drums, Bjorn on bass guitar, Robin on guitar and Laurens on guitar and vocals. We have played many different styles over time. By playing music ranging from acoustic ballads to heavy hardrock, we eventually have found our own sound. We are primarily inspired by British pop-rock and the more fierce American sound. We love to play live, from a acoustic gig on 'Ramblas' during the 'Vierdaagse' event (Nijmegen) to our usual solid rock at a Harley Davidson meeting. Finally, we can proudly call ourselves the winner of the 'Pearl of the Betuwe 2018'.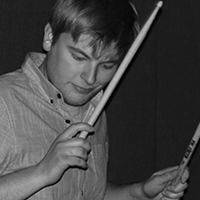 Nick Mastenbroek – Drums
I'm Nick, the drummer of Spark of Sanity. I've been playing the drums since I was about eight years old and have played in several bands before I joined Spark of Sanity. I like listening to all kinds of music on my phone, in the car or on my stereo whenever I get the chance. I always liked rock music and when Bjorn and Laurens invited me to play music together it immediately felt like a good fit.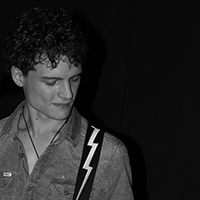 Bjorn Schouten – Bass
My name is Bjorn and I play the Bass. I'd say I like breaking the ice with a crowbar if it didn't sound so ridiculous in english. I was born and raised by Rock 'n Rollers and I'm here to pass the torch, light your candles, convert you to the world of instrumental music. Rhythm over Algorhythm!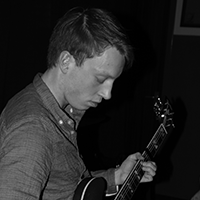 Robin van Son – Guitar
Hey, I'm Robin, guitarist of Spark of Sanity. Newest addition to the band and all-round rock enthusiast.
My weapon of choice is a metalic blue ES335 with white racing stripes (they help me play faster).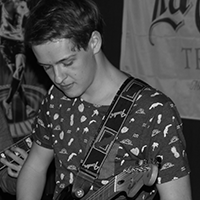 Laurens Lamberts – Vocals & Guitar
Hi, I am Laurens, vocalist and guitarist of Spark of Sanity. I like a lot of different music styles, but I'm mainly into Rock music. In my spare time I like to travel, play some records and do some singing and playing a nice guitar. Making music with- and for others is what I enjoy most, so I'm looking forward to play for you (and myself) soon!
Booking
We would be happy to play at your venue!
Please send us a message at contact@sparkofsanity.nl, and we will get in contact with you soon.